Very Sensitive Reporting!
Please keep your eyes glued to your screen to pick the secrets in this piece of mail from Jason Bond for subscribers.
It's important for new members joining NYIC who want to know where the next big thing may be happening to take advantage of and make similar profits like those reported by Jason, saying:
I made +$83 thousand Thursday & Friday's hottest stocks"
CHEDDAR was all over my stocks and options Thursday.
NEW video lesson detailing how I made $83,119.61 Thursday.
What a GREAT team we have. I played the oversold pattern on TSLA and FB and Jeff Bishop's Weekly Money Multiplier scored huge on DIS and AMZN, as well as a few others.
Monday, when I hand over the keys to the Porsche I will announce the LOWEST PRICE EVER to join us in the Millionaire Roadmap because I was EVERY client of mine upgrading to take advantage of times like this in the future. And yes, we'll toss in Jeff Bishop's Weekly Money multiplier FREE!
I LOVE YOU GUYS and GALS! We crushed it.
"@ Jason Bond, Your TSLA Call rocked, my first profit +$9,085 !!!! after joining the MRM." ~ Mohan V.

"out TSLA +$15,555 thanks JB, Jeff B and Nate learned a lot this last month." ~ James A.

"Sold 1/2 LFIN 4/20 $15 calls up +55% off of JB's trade earlier this morning. Leaving $ on the table, my rule. THANK YOU @JB!" ~ Deb A.

"LFIN, +$1,332 BOOM-chug-a-luga!" ~ Patrick N.

"Hit my target for the day w/ TSLA & NEM calls…done for the day and shutting 'er down! See you at power hour." ~ Dorothy H.

"@jeff…thanks on the DIS calls….+$2,200!" ~ Kirk P.

"+120% overnight on FB calls first green option trade hopefully more to come." ~ Albert B.

"Just close out half of my AMZN calls for +$7,500." ~ Scott A.

"Out FB +$2,000." ~ Shamima S.

"+$1,500 on FB calls." ~ Jason H.

"@jeff…closed the TLT puts for +$1.200…thanks!!!" ~ Kirk P.

"+$4,751 w/ TSLA calls+++!" ~ Patrick N.

"I did not trade options till this past week. But just nothing happening in small caps. Glad I did up about $7500 . Spent a lot of time watching Jeff's videos. Glad I did . Thanks Jeff and Jason and the whole crew." ~ Scott A.
First of all, HOW about LFIN from Wednesday's watch list?
LFIN – Oversold chart pattern. Packed with shorts. In play above $10.50. This one can fly so I'll look to go smaller and play for a big percent return. I like this as a swing into Friday and think it'll be a big winner for me. Probably 2-3K shares around $10 or $11 for a move to $15-$20.
Before
After
Recognize the pattern from my Penny stocks 101 oversold video lessons? Heck ya you do! Boom! Wall Street's biggest winner Thursday. I'd have bought it but I was busy taking profits on the same pattern but with option calls on AMZN, DIS, FB and TSLA right at the open. Look at these massive wins!
And be sure to check out my NEW video lesson I did last night detailing exactly what I saw on each of those.
In just 9 trading days I've made $99,206.97 realized profit since moving to TD Ameritrade.
What I'm most proud of though isn't just the money but that after being knocked down in February, I dug in and got back up. Something I've had to do my entire life to be successful. I'm now up about +$50 thousand in 2018 and back on track to hit my +$500 thousand year or doubling last year's +$284 thousand profit.
Moving right along, let's take a look at my long-term portfolio positions before jumping into today's FibonacciFriday watch list.
ROX –  After Patron was snatched up by Bacardi at a juicy premium for $5.1 billion there's even more justification for Castle Brands to get bought out. And it's not just hype, they've considering selling amid takeover interest at this time last year according to Bloomberg. I'm in no rush on this trade and believe firmly we'll see a $2+ move sometime this year. For those of you who are new, here's my latest report from back in February.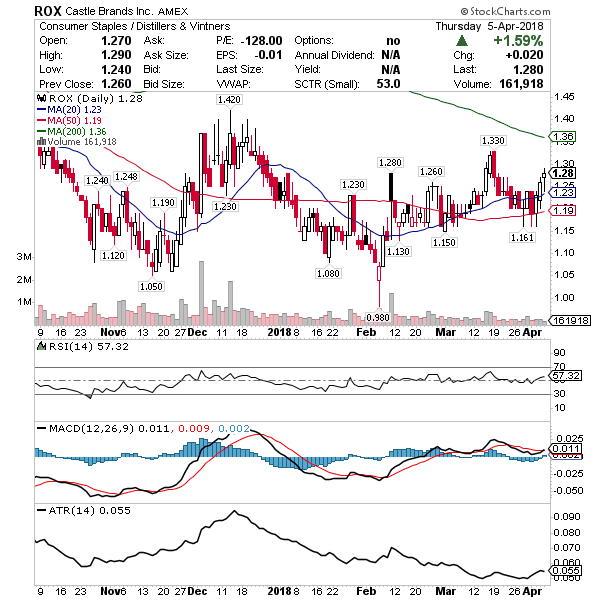 LQMT – If you missed my report last week, here's why I think Liquidmetal is the best jackpot penny stock out there right now.
During my research in 2016 about the subject of this new technology, liquid metals, I came across an older article regarding interest expressed in liquid metals in the medical equipment industry journal, entitled, Could Liquidmetal Be the Newest 'Miracle' Material for Medical?
The article begins with a quote from Liquidmetal Technologies' marketing manager, who fielded calls following a report that Apple Computer had decided to incorporate liquid metals in future iPhones:
Following reports that its metal alloy might be used in an upcoming iteration of the iPhone, Liquidmetal Technologies Inc. (Rancho Santa Margarita, CA) was inundated with inquiries from potential customers. Marketing manager Dennis Ogawa fielded so many calls he lost his voice.

"It's been overwhelming," he says.

Some of the interest came from companies in the medical device space, which the company hopes will grow as a share of its business in the coming years.
Did you catch that?  When Apple Computer expressed interest in liquid metals for upcoming iPhones, company executives from the medical equipment industry (and other industries) inferred—and rightfully so—that Apple had vetted liquid metals  technology and concluded with a 'thumbs-up'. Not only are liquid metals stronger and lighter than today's materials, the process of making parts is more efficient, too—a double whammy winner.
It appears that the materials market has finally 'gone 21st century', and I certainly want a piece of this exciting action.
Now here's the clincher for me, and it should be for you, too.  If you read the article in its entirety—including reticence expressed by an interviewee for the article (in the spirit of balanced reporting, of course)—you'll catch the punchline at the close of the article, delivered by Matt Duncan, president of Morphix (designer of two of the first medical devices incorporating liquid metals, Biolase's handheld pen lasers, iLase and ezlase), who said:
If Apple starts using [liquid metals], look out.  I think that will probably legitimize it as a go-to material, at least for a while.
Well, guess what?  Liquid metals have now become "legitimize[d]."  Persistent and pervasive rumors of Apple's planned use of liquid metals just got another big shot in the arm on March 20 from an announcement of Apple's slew of newly-awarded patents, including patents covering liquid metals technologies.
In an article by Patently Apple, entitled, Apple Won 49 Patents Today Covering an iPhone with a Liquid Metal Wraparound Display, an Advanced Apple Pencil and more, we can see Apple's full-frontal preparation for an introduction of liquid metals technologies for future iPhones.  So, if we circle back to the warning heeded by Morphix president Matt Duncan that the global marketplace should brace and "look out" for mass disruptions in materials used in the production of consumer and commercial products when Apple adopts liquid metals technologies, we can now see why display-maker stocks were "rattled" following the Apple announcement of its 49 patent awards earlier this month.
Given the overall turmoil in global stock markets, this announcement was grossly under-reported in mainstream publications.  But I'm alerting my subscribers to the big news now.
Patently Apple's fantastic and ongoing reporting of the liquid metals saga at Apple included the following text in another article, the inference of which I wholeheartedly embrace as an overwhelming bullish reason to own LQMT now!   The article, entitled, The Discovery of Apple's Secret Micro-LED Display Testing Plant in California Rattles Display Maker Stocks in Asia provides some analysis of the big news out of Apple.  The article begins:
We're now learning that "Apple Inc." is designing and producing its own device displays for the first time, using a secret manufacturing facility near its California headquarters to make small numbers of the screens for testing purposes, according to people familiar with the situation.
Hello?!
I ask: where is the one of a mere handful of companies located and expert enough to accommodate Apple's important strategic plan to seize the displays market with new display technologies?  And which company has already been doing business with Apple since 2010, when at that time Apple bought exclusive rights to Liquidmetal Technologies patents for the consumer electronics market?
Oh, I know my intelligent subscribers know the answer to these two questions.  Liquidmetal Technologies, of course.
Liquidmetal Technologies is located at 20321 Valencia Circle, Lake Forest, CA 92630, a one hour and 25 minutes flight from Apple Headquarters in Cupertino, California, a short-enough fight time (verified on Google maps) to actually commute during short periods of time, if need be.
The article continues:
The screens are far more difficult to produce than OLED displays, and the company almost killed the project a year or so ago, the people say. Engineers have since been making progress and the technology is now at an advanced stage, they say, though consumers will probably have to wait a few years before seeing the results." Apple's possible solution to get around this difficulty was covered in a report that was linked to in our opening paragraph.

The report further noted that "Apple's possible move into displays has the long-term potential to hurt a range of suppliers, from screen makers like Samsung Electronics Co., Japan Display Inc., Sharp Corp. and LG Display Co. to companies like Synaptics Inc. that produce chip-screen interfaces. It may also hurt Universal Display Corp., a leading developer of OLED technology.

Display makers in Asia fell after Bloomberg News reported the plans. Japan Display dropped as much as 4.4 percent, Sharp tumbled as much as 3.3 percent and Samsung slid 1.4 percent.
From the carnage of more than $1.0 billion of market cap lost in the above-mentioned companies following the Apple announcement of patents awarded for liquid metals and screen display technologies, it appears that a lot of investors of Samsung, Sharp and LG Display didn't "look out," as Matt Duncan had warned.
As far as I'm concerned, the smoking gun is in front of all us to see.  Led by Apple Computer, liquid metals technologies are about to be coming into our lives… and fast!
As I see it, there are three scenarios for investors of LQMT:
One, Liquidmetal Technologies becomes a producer of OEM products for the medical equipment industry (among other industries, too, of course).
Two, Liquidmetal Technologies sells/leases/partners its inventory of liquid metals patents in a manner similar to deals made with Apple in 2010.  But I assure you, in the future, deals cut by Liquidmetal Technologies will most likely be much, much more lucrative for investors of LQMT than the initial deal made with Apple at a time when the technologies were still in their infancy—and when Liquidmetal Technologies, strapped for cash and under old management—cut a poor deal with Apple.  That was the environment that allowed Apple to secure some patent rights for a limited market for under $20 million. Today, we're looking at the possibility of striking deals worth hundreds of millions of dollars per application/per year from just the medical equipment makers, alone.
Three, Apple (or another behemoth corporation) buys Liquidmetal Technologies in one fell swoop!  That's what I would do, if I were a leader of medical equipment or a supplier of the industry, such as Germany's Engel Austria GmbH. Hmm.
And whoever buys Liquidmetal Technologies for its drawer-full of patents, isn't going to get away with paying a paltry $20 million.  No, sir. This is a multi-year, multi-billion-dollar deal in the making. In the wake of this news out of Apple, at a market cap of only $211 million, LQMT trades cheaply, in my opinion.
After reviewing this eye-popping development, I look at LQMT as I would a biopharmaceutical company on the verge of gaining final approval for a novel drug that serves a multi-billion-dollar market.
In the case of liquid metals technologies and their future impact on industry, Apple wields as much power as the Food and Drug Administration ("FDA"), business decisions across many industries, and stock prices of companies operating in Apple's pathway.  In essence, Apple has granted approval of liquid metals for the global marketplace. In my mind, it's only a matter of time when LQMT headlines as the latest buyout from a big-name player who can do something with these exciting and new technologies through economies-of-great-scale and lightning speed to production, both of which Liquidmetal Technologies is not capable of doing at this time.
Therefore, and quite frankly, I view Liquidmetal Technologies as one big research and development enterprise with a manufacturing facility as a place to "hang your hat" and entertain captains of industry in need of its war chest of intellectual property.  With that viewpoint in mind, the only option I see that makes sense from the perspective of a CEO at one of the several, large multinational corporations of the medical equipment/devices industry is to just get it over with by buying Liquidmetal Technologies and seizing market share in the medical equipment and devices industry, as Apple appears to be doing in the screen display market for consumer electronics.
Oh… and for those scratching their heads because I haven't mentioned the potential of a buyout of Liquidmetal Technologies by Apple Computer, itself, save your email to me.  Of course, if Apple buys Liquidmetal Technologies, or even becomes a focus of a rumor of any intention by the biggest-of-big-boys to buy the company, of course the price of LQMT 'goes absolutely bananas'.  Who knows how high LQMT would fly to.
You know, with all of this evidence piling up since 2010, if this were a murder investigation, Apple would certainly becomes a prime suspect.  Hmm? Something to think about…and quickly.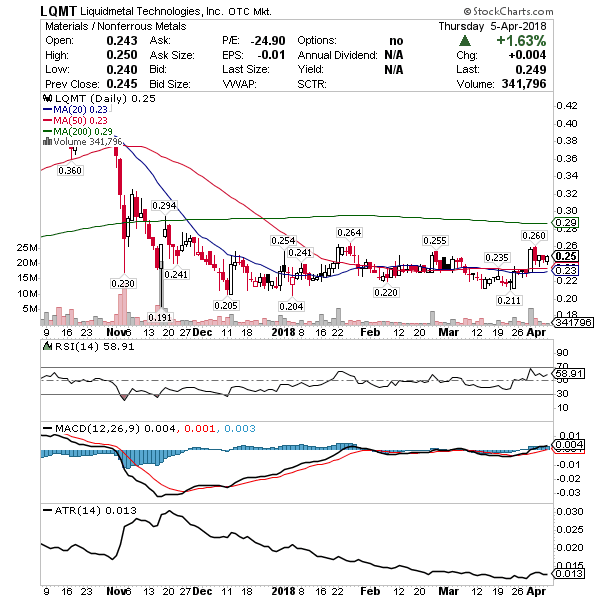 Onto Fibonacci Friday!
LFIN – Okay, so this isn't Fibonacci, it's an oversold bouncer that's heavily shorted and the squeeze could carry it to $30 today. In play above Friday's close for a move to $30. Already up a ton from my watch listThursday and not something to marry, just a Friday trade. And if LFIN is chugging along again, keep an eye on NETE and RIOT as well.
Now Trump fired back at China with another $100 billion in tariffs. This caused U.S. futures to drop pretty hard but they've recovered to -250 as I type. What I want to point out is that if this dip isn't bought and if the market doesn't go red to green, like it did Wednesday, I won't try to fight the headwind and you shouldn't either. Traders may look to play the weekend conservatively, opposite of how they bought the dip on Wednesday. Only time will tell, I'll reference an intraday chart of the IWM for direction. If there's buyers out there, I'll be active, if not, TGIF baby and see you in Atlanta Monday!
Something tells me the dip will be bought and if so, here's the trades I think could work.
NIHD – I played this last week for the breakout and it didn't want to run. However, it keeps hanging around a key breakout area so I might take a stab at it again today. In play above $2.15 for a move to the upper $2's on a pattern breakout. This bull flag consolidation is due to rip higher.
CASI – In play above $6 for a Friday squeeze. It's had a few days of rest after the $7.20 high Wednesdayand if $6 holds today, watch out for the breakout to $8. Textbook continuation pattern into a breakout pending here.
I – I've had a lot of luck trading this one in the past because it tends to carry a move once it gets going. I'm watching Thursday's close at the entry / exit range and looking for a key break of $5 to take it to $6 and think it could happen today if the market isn't falling apart.
SSI – Huge move on Wednesday and held up on Thursday. In play above $2.60 for a low $3's move. Again, it's very important the IWM is trending up for a pattern like this to work. Sure it could go against the grain, especially since it's a Friday, but check the IWM intraday first, then check the price action here, that's what I always do on trades like this and it increases my win rate.
CPST – Closed very strong at $1.51 and tends to run across multiple days once it gets going. If sellers don't show up, despite the overall market dip, it might afford a delayed entry for traders that didn't enter yesterday's close for the gap higher.
BDR – Last but not least I like this above $.90 for a move back to the middle $1's. It'll likely have collected shorts Wednesday and Thursday and there's not much more downside for them here, so if bidders are in there, I will be too.
The diary of a real $ trader,